The TiVo Toon Project
It's TiVocative!
Pitch: Today, with TiVoTakes(TM), TiVo has cornered one segment of the TiVo viewing market. Left so far untapped is the enormous cross-marketing potential of a Saturday morning cartoon aimed at some of TiVo's biggest fans: The 12-and-under set. The interactive possibilities are enormous: Using Thumbs Up and Thumbs Down to vote for favorite characters and determine multi-path endings, and of course the couch-commerce angle. This is family-oriented viewing at its most profitable.
These early concept sketches show some of the character and interaction possibilities.
The concept and sketches were developed and created by members of the Summer 2000 Service Operations Intern Team (during some network downtime on June 22), but soon after the sketches' unveiling, others at TiVo began contributing.
[ New drawings added on 6/23 ]
[ New drawing added on 6/25 ]
[ New drawing added on 6/28 ]
[ New drawings added on 7/12 ]
Situation 1: Romance
Introduces the lovable-but-shy TiVo character and the provocative and saucy TiVa character -- along with their uneasy romantic dynamic. Sketch by Harry Mack.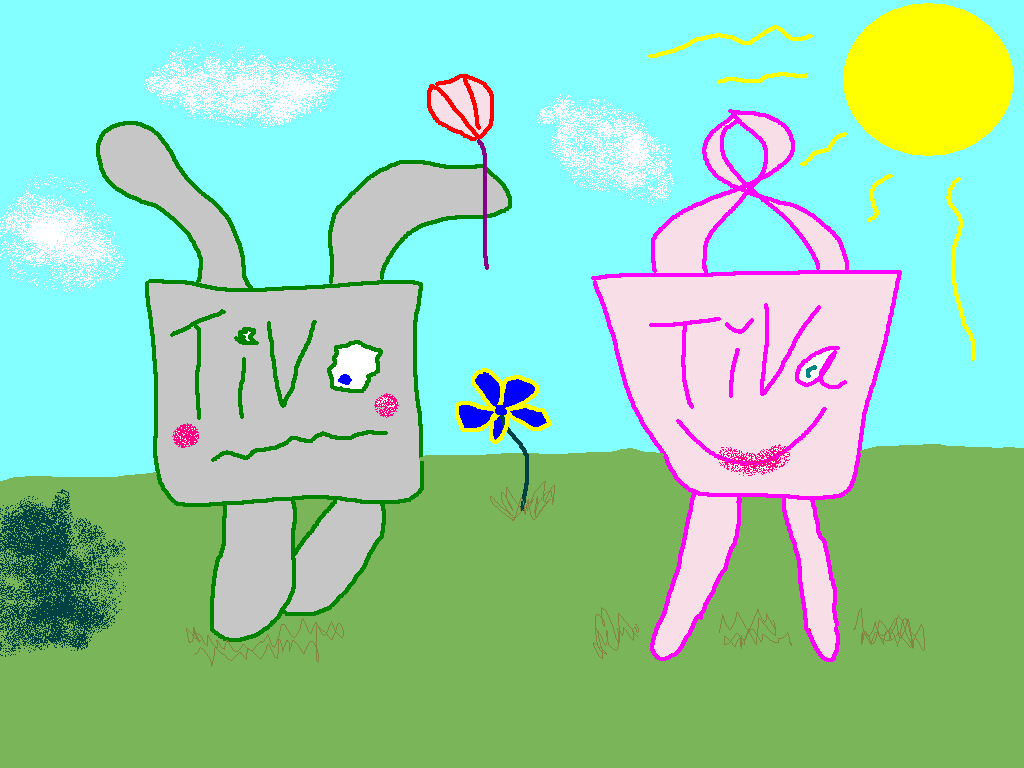 Situation 2: Film Noir
TiVo's seedy-but-tough investigative angle is explored in this sketch by Ben Flasher.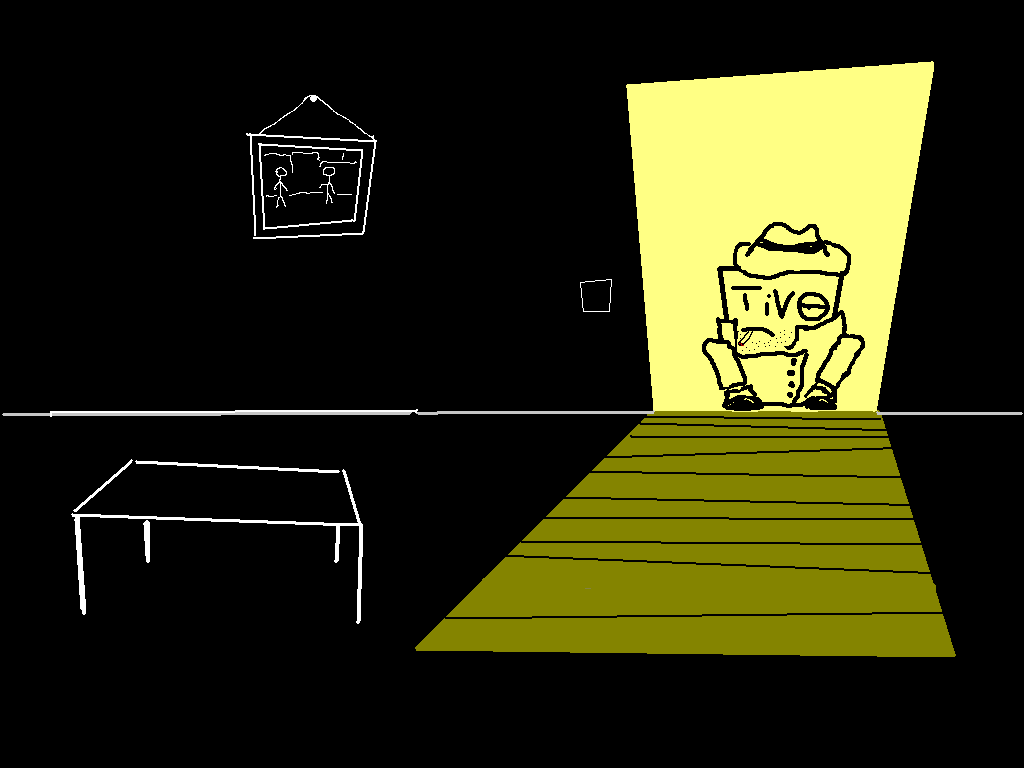 Situation 3: Taking on the Competition
Introduces the arch-enemy and dramatic foil, RePlay. WARNING: REPLAY IS NOT A FLYING TOY. FLAMES MAY ONLY BE USED UNDER PARENTAL SUPERVISION. Sketch by Harry Mack and Teresa Giardina.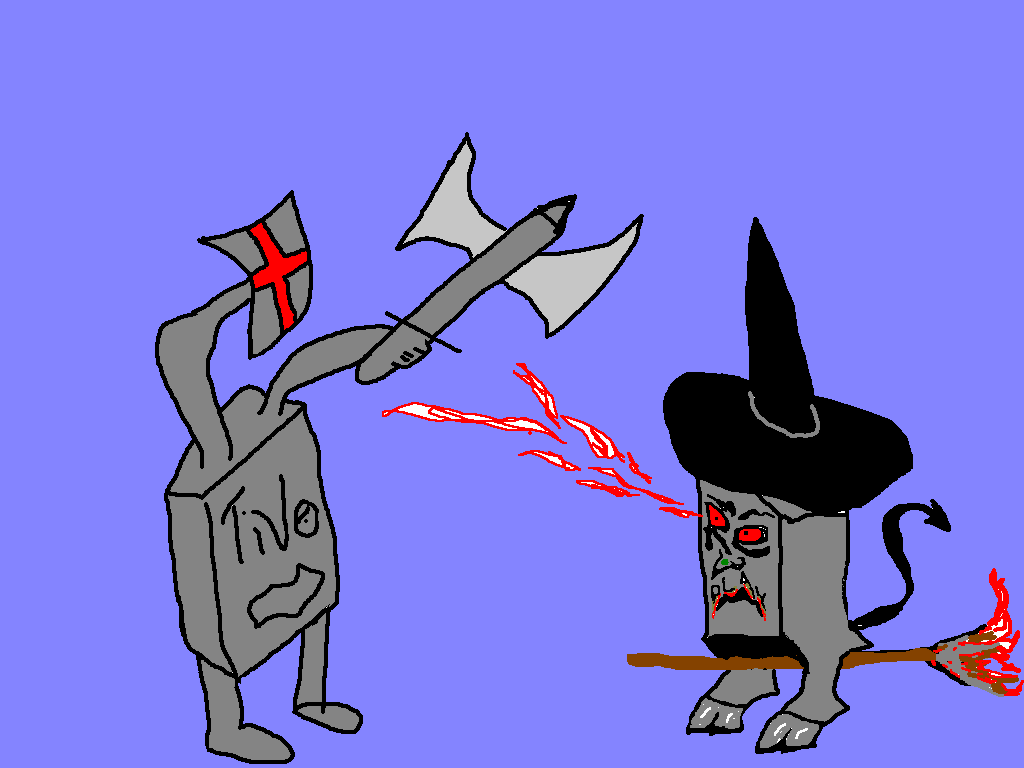 Situation 4: Dream Sequence
TiVo has an aggressive side: His Evil Twin, El TiVÓ. Here, El TiVÓ takes on a large metropolitan area, such as Tokyo or New York. Note his invulnerability to bullets and shells. The green whale, Blinky, may also take on a recurring role while promoting environmental awareness. Sketch by Harry Mack.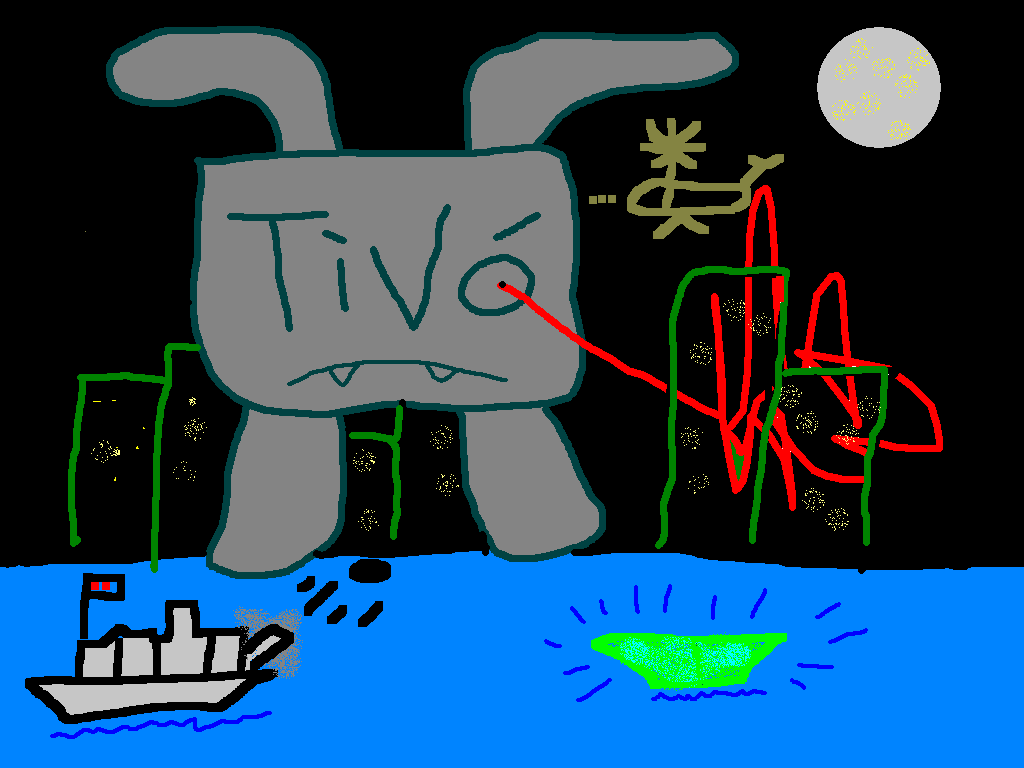 Situation 5: Lounging
TiVo is all about relaxation and entertainment. Here, the living embodiment of total refreshment is illustrated by TiVu (the daughter of TiVo and TiVa) -- with a refreshing day at the beach (remember those?). Introduces Gully, TiVu's seabird sidekick and constant wise-cracking companion. Sketch by Teresa Giardina.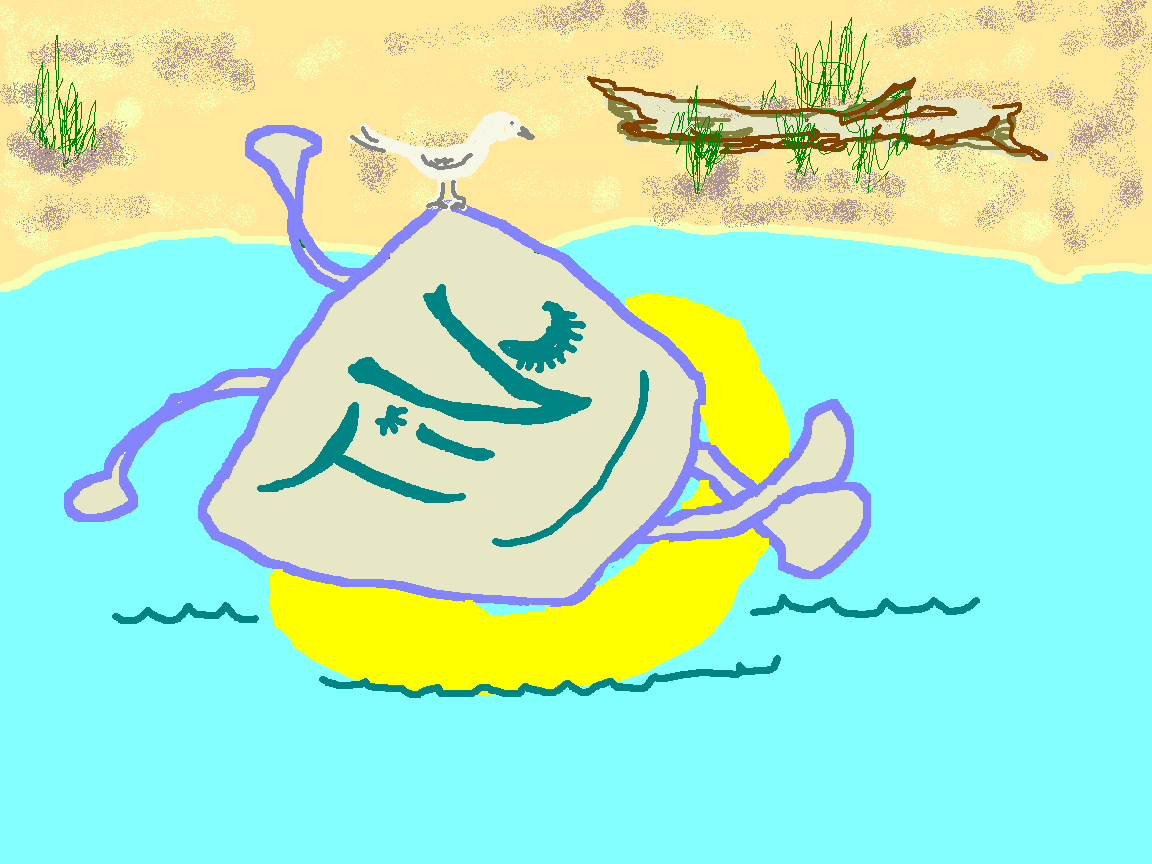 Two possibilities here:
In partnership with Discovery Science, a fascinating documentary episode explores the innards of a TiVo fossil, unearthed in France, dating from the Early Mesozoic era.
For older, post-bed-wetting kids, a horrific Halloween episode will make you jump out of your skin.
Sketch by Rich Thomas, 6/23/00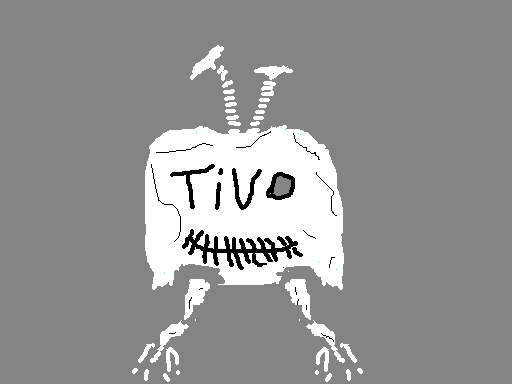 Situation 7: TiVo is out there
Kids today expect photo-realistic backgrounds, fully splined 3-d animation, and government-coverup paranoia-inspired plots. Here, the more traditional TiVo logo visits Muscle Beach, where the truth is involved: TiVo's head is hollow, or at least transparent. Imagery by Marcel van den Top.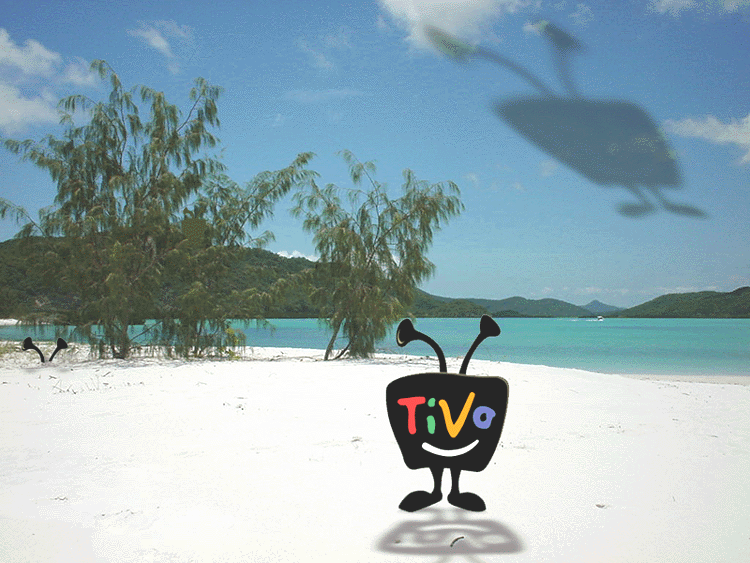 Nothing moves plush toy units faster than cute wide-eyed babies. Remember Cabbage Patch Kids? Remember the Muppet Babies? Remember Scrappy Doo? Okay, maybe we'd rather not remember Scrappy Doo. But in this not-to-scale rendering, we're introduced to TiVi, the youngest, most precocious, and most-diaper-wearing of the TiVo character set. TiVi's cuteness is in stark contrast to Snarkles, seen here, a feral cat/rabid bunny hybrid who speaks in a funny French accent and represents the dual nature of most pets.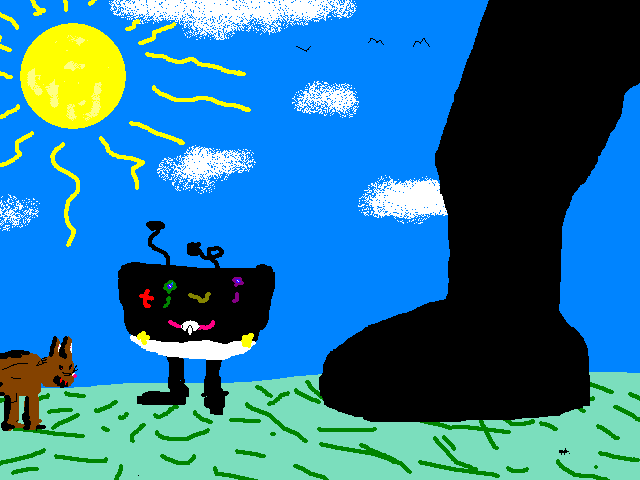 Later episodes can expand on the deep Campbellian mythos, the cosmic Jungian shared consciousness, the secret Skinnerian gestalt history between TiVo and humans. Apparently TiVo comes from distant Vulca. As artist Megan Horner puts it, don't question the dog-creature. It's all parallel evolution.
Note that kids will enjoy collecting the FlYing SauCer and FlYing SkOoter, will yearn for the CrYstal CiTy PlAyhouse, and will hanker for the Official TiVa PiCnic BaSket and BlAnket SeT.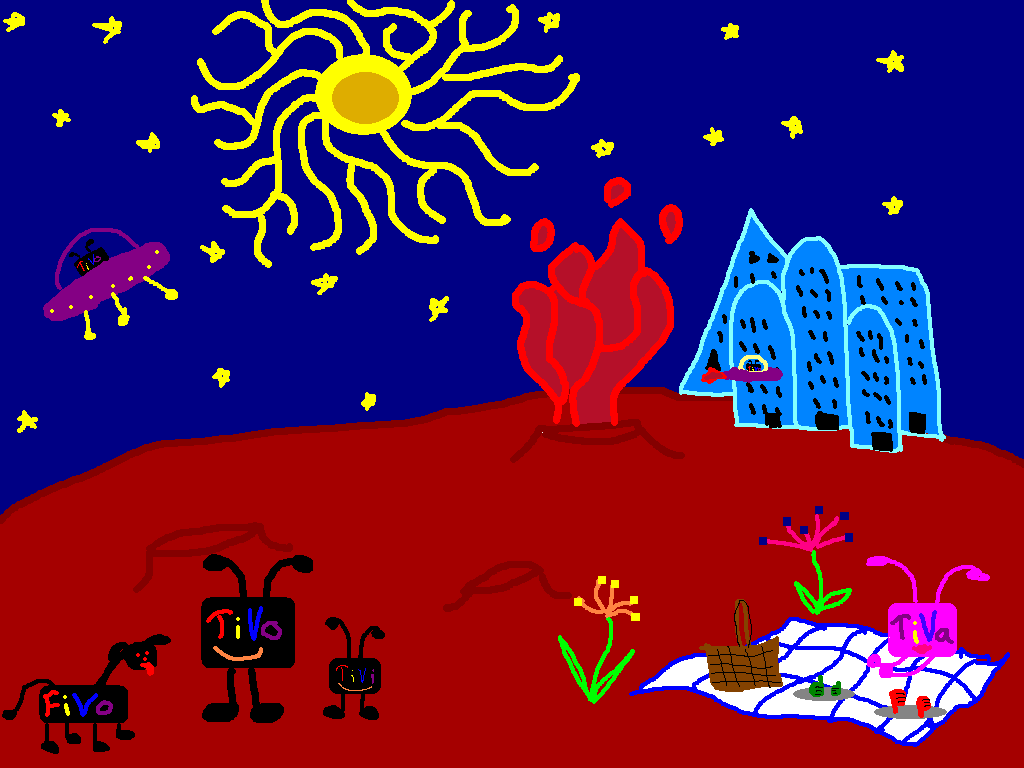 Maybe this one wouldn't really work in the cartoon show, but it sure gets the interns de-duping faster. Sketch by Megan Horner.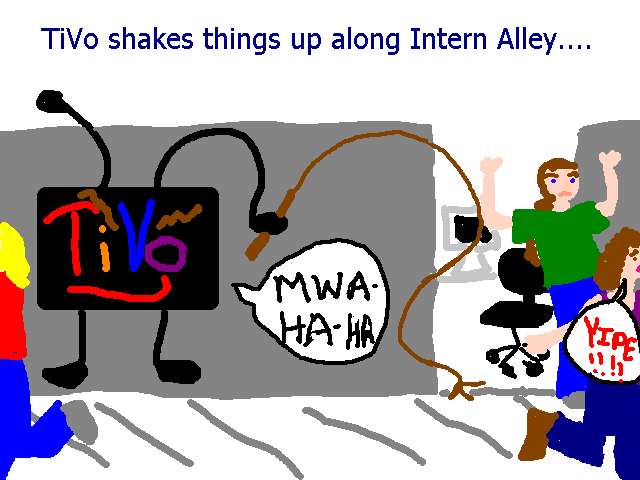 Situation 11: High Holy TiVo Day
Von Daniken, author of "Chariots of the Gods," apparently left out a chapter of his infamous work. Perhaps the ancient astronauts were actually time-traveling TV fans from the future? Sketch by Megan Horner.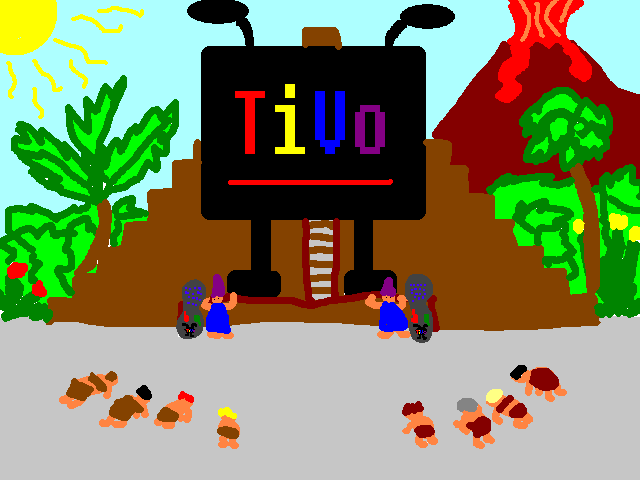 Situation 12: Introducing Msr. TiVé, le Bon Vivant
TiVé is another in the apparently endless chain of cousins of Tivo. Viva la France! Sketch by Megan Horner.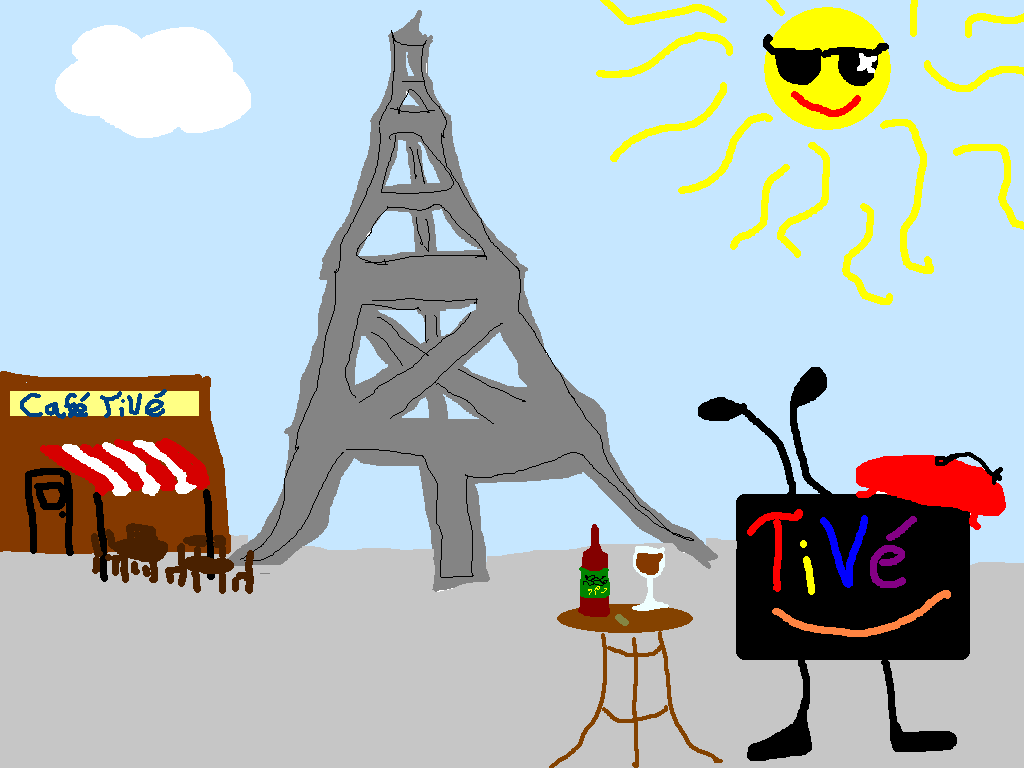 Stay tuned for more! Contribute your own!
---

Last updated on July 14, 2000