Sammy's Story
---
"Sammy" is what we call our first son, Edwin Samuel Mack V. He was born on Friday, September 16, 2005 at 12:39am at El Camino Hospital in Mountain View, CA. He weighed 6 pounds 12 ounces, and was 20 inches long. The labor lasted about five and a half hours. This is the story of his first 48 hours.
---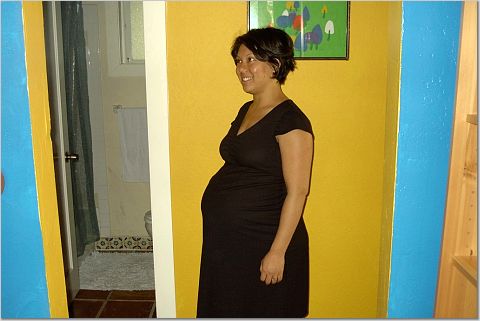 2:40pm on 9/15: Kimi is in her 38th week; Sammy's due date is September 28th, but Kimi has called me right after 2pm to say that she thinks her water broke. We call our doctor and he says to come in. Before we see him at 3pm, I take this shot. At the office, our obstetrician (Dr. Takeshi Inouye) confirms that Kimi's water has broken, which means Sammy will need to be born one way or the other within 24 hours. (Longer than that and there's a risk of infection.) She's only 1cm dilated, which means there's still a long way to go. He tells us to take our time and recommends a walk, and tells us to be at the hospital between 6:30pm and 7pm (sooner if the contractions start getting painful). We grab a smoothie and a bagel, and relax at home for a bit. Then the contractions begin! Time to go...
| | |
| --- | --- |
| 7:08pm: We check in; the hospital is so full with holiday babies (nine months after New Year's Day) that we almost don't get a room. But once we do, Kimi is quickly given an IV, and monitors are set up to watch her pulse and blood pressure, as well as the baby's heartrate. There is also a machine with a printout showing the contractions. Our nurse confirms she's still only 1 cm dilated. | |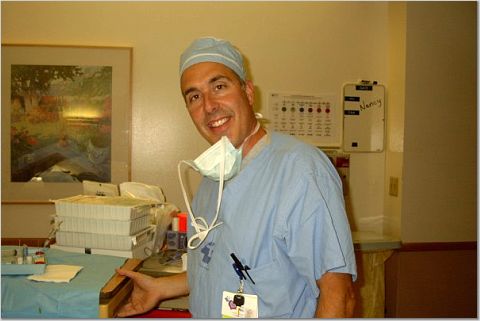 9:21pm: For the last two hours, the contractions have been getting more frequent and more painful. I try to distract her; we watched Survivor, but she was clearly becoming uncomfortable as the pain from the contractions moved from 3 (on the pain scale of 1-10) to 5 to 8. The hospital is so crowded we are told we might not get to have the epidural that she wanted. Just as the nurse is about to administer an alternate (and less effective) pain medication, the anaesthesiologist calls out from outside the room for the nurse to hold on. He rushes in to give Kimi some pain relief. He works extremely quickly to insert the needle in her spine (I would have liked to watch this part, but they positioned me in front of Kimi to support her knees). He has to time his procedure between her contractions, which is tricky because they are so frequent.
| | |
| --- | --- |
| 10:54pm: It takes a little while for the medication to work, and during that time the contractions become much stronger. Our nurse has observed "bloody show" (which is a good sign) and was startled at 10pm to find that Kimi was around 5-6cm dilated. That's pretty fast progress. You can see Kimi smiling, which is a sure sign the epidural is working. Her legs are tingly and the area between her chest and toes is numb. The contractions now cause pressure but not pain. | |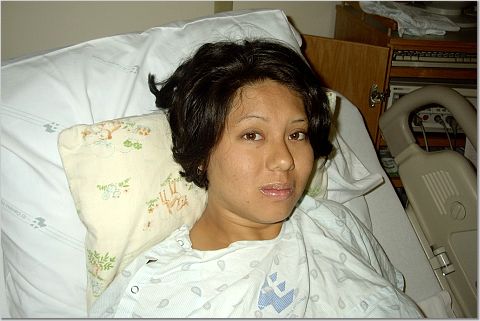 10:54pm: In addition to being medicated, Kimi is also nervous. Dr. Inouye has checked in twice (he has three other patients giving birth this evening). Everything looks good. But Kimi can't help feeling a bit disconcerted about what's going on. I find that I'm quite calm.
| | |
| --- | --- |
| 11:32pm: So many machines! The nurse has just discovered that Kimi is 10cm dilated. That means the pushing phase of labor is about to begin! In calling my parents, we had set up a pool. First-time labor usually takes a long time, and my family had guessed times ranging from midnight to noon. I had predicted 2am, but honestly I was just guessing that to keep up Kimi's spirits. The nurse had warned me it would probably take all night. Sammy has other ideas. | |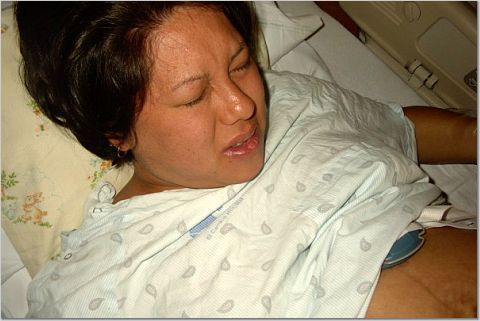 16-Sep-05 12:32am: Kimi pushing -- Sammy is almost here.
| | |
| --- | --- |
| 12:33am: Millimeter by millimeter, Sammy makes progress. | |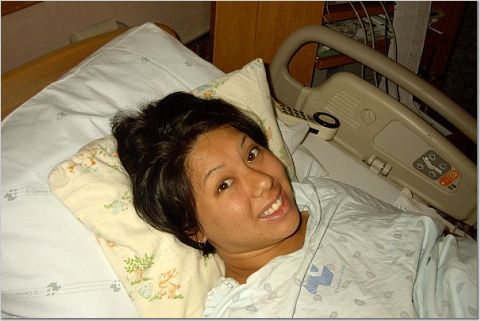 For a few contractions, Kimi regains her strength and concentrates on her technique before resuming the full-on pushing.
| | |
| --- | --- |
| 12:36am: We are moments away from the birth; Dr. Inouye prepares. | |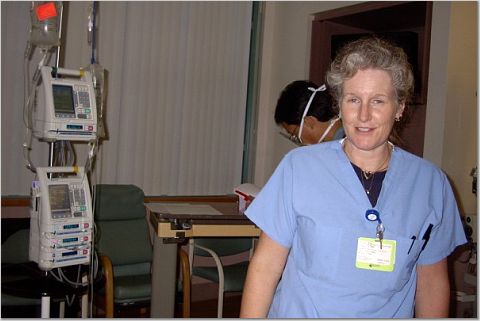 12:36am: Our RN is Carrie, who is very professional and empathetic. This is the calm before the frenetic final pushes.

12:39am: Sammy arrives! Scoring a 9 on his Apgar test, he looks and sounds healthy. The emotions at this point are just dumb-founding; it seems at once unreal and miraculous. I'm near tears; and also out of batteries for my camera. Indira, the head night nurse (and our child preparation class teacher) joined to help (and also lend me some batteries). I still can't believe how quickly phase 2 and phase 3 happened. Cutting the umbilical cord and watching them prepare Sammy (his head so elongated and strange-looking) and hearing him cry... Overwhelming.

My father Ed wins the pool!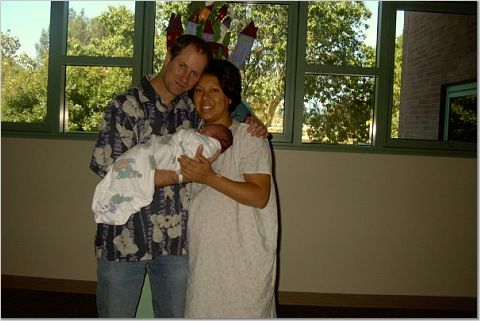 11:35am: After the birth, we move to a semi-private room in the maternity ward. I'm not allowed to stay the night with them, so I go home at 5am. Sammy nurses a bit with Kimi, and the RNs take good care of him during the next few hours. Friday morning, an information volunteer takes our picture in the Orchard Pavilion.
| | | |
| --- | --- | --- |
| | 11:38am: Baby Winters (since they use mom's last name) and his vitals. | |
| | |
| --- | --- |
| 11:40am: In the lab, during various required tests, mom watches over him. Funny to think he is less than 12 hours old. | |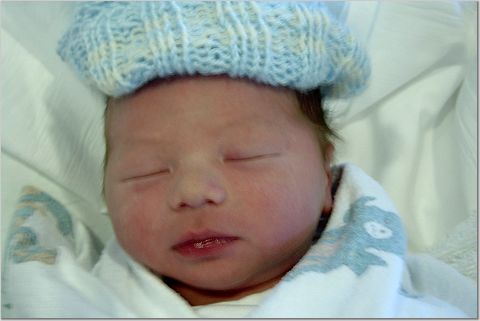 11:40am: I'm told the nurses knit these hats.
| | |
| --- | --- |
| 11:49am: Nurse Maria was described by Kimi as a "total pro"; she demonstrated some lactation techniques. Sammy is good at latching, but unenthusiastic at sucking during his first day. | |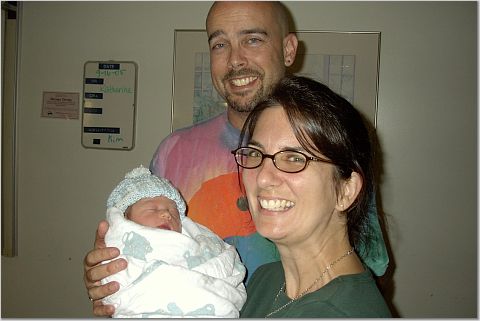 Our first visitors, around 5pm, were Ken, Jane, and Kyrie; Kyrie also helped me fetch some extra food for Kimi from the cafeteria. Later, John and Yvonne visit (as pictured here), and bring Kimi some chocolate pudding.
| | |
| --- | --- |
| 17-Sep-05 10:47am: After another night Kimi and Sammy stay at the hospital, we're told we can leave today (a little early, since normally they require 48 hours). Bob, Sabrina and Nico come for a visit; after they leave, we're told the hospital wants their shirt back, so we dress him up to get him ready to go. | |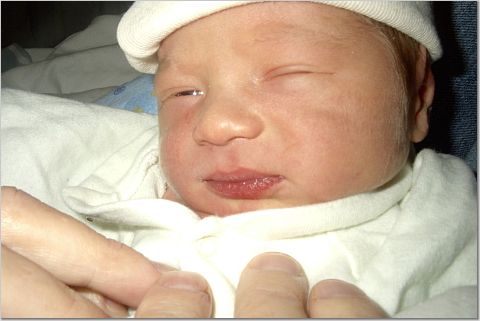 10:47am: Sammy was very alert just before we depart on Saturday. (He had also been alert at 5pm on Friday when Ken, Jane and Kyrie visited). Most of the rest of the time he slept.
| | |
| --- | --- |
| 10:49am: Back to sleep but ready to go home, wrapped in the blanket that Tomi (Kimi's sister) made. | |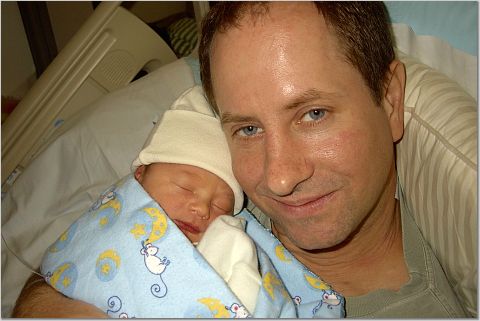 10:50am: Stephen could not be more proud.
| | |
| --- | --- |
| 11:15am: Some more paperwork, and some waiting, and then we're really ready to be discharged. You have to have a car seat to leave. | |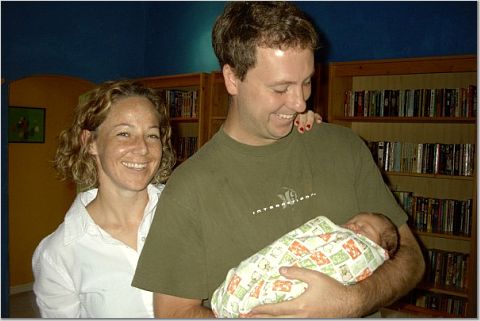 1:56pm: After a brief stop for some bagel sandwiches and to get our prescriptions, we arrive home. My brother Rob and sister-in-law Kelly come to visit. Sammy's wrapped in the blanket that Jose and Diana gave us.
| | |
| --- | --- |
| 2:09pm: Kimi in the rocking chair given to us from Patti S. and Steve W. with cushions she made herself. We're really home with him! We're really parents. This fact is still taking some time to really sink in. | |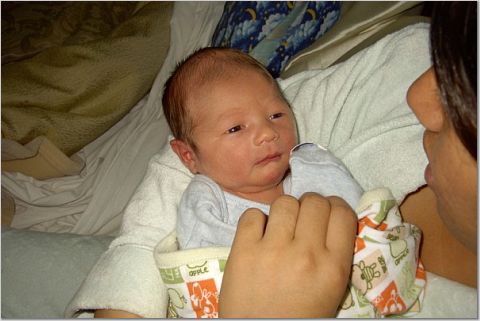 3:18pm: On our bed, Sammy's eyes really open. Our two cats Storm and Mourny don't yet know how to react to Sammy.
| | |
| --- | --- |
| 3:18pm: Whose smile is wider? | |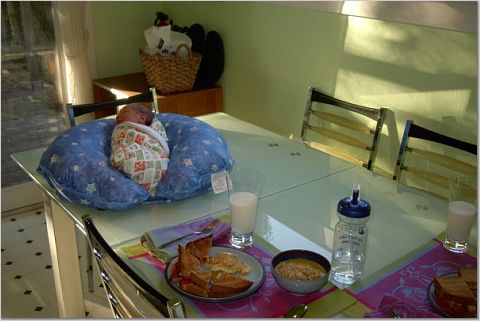 6pm: I've made a quick dinner, and Sammy (despite appearances) is not the main entree.
| | |
| --- | --- |
| 6:01pm: Everything is new. | |



Sunday 18-Sep-05 12:53am: As I write this, Sammy is almost exactly 48 hours old. We've changed a few diapers, Kimi has breastfed him quite a few times, and we'll see if stays asleep in the bassinet for more than a few moments.

Much love to him, love to us, and love to you. --Kimi and Stephen

(More pictures are available over at our Shutterfly home.)



Mountain View, California
18-Sep-2005
estephen@zeigen.com